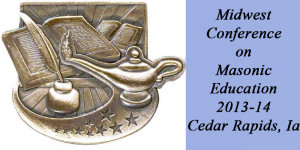 From the proceedings of the inaugural session of the Midwest Conference on Masonic Education held at the Iowa Masonic Library in Cedar Rapids December 2, 1950.

Brother Radcliffe: Brother Butler and Brethren: I am very happy this morning to extend to you on behalf of the Grand Lodge of Iowa my fraternal greetings and my very best wishes for a happy stay in Cedar Rapids. One of the nice things about Masonry is that, when somebody gets an idea that we think is good for Masonry in general, we are happy to share it with our neighbors, and it was from this thought that the inspiration for this first Midwest Conference on Masonic Education was born. I only hope that when you return to your homes you will feel that your visit to Cedar Rapids was both pleasant and profitable. Thank you.
Brother Butler: I have felt that many of you agree with us that this' might be a historic occasion. We hope that the results of it will somehow or other enable us to go on' and do a better job. Why the conference? We here in Iowa arrived at the point where we needed some help and it seemed to us that one way to get it was to bring in our neighbors to tell us what they were doing, and perhaps in an exchange of ideas we might be of some help to each other. Naturally the pattern of the conference in our thinking fell into the pattern of the Masonic Institutes which we have been holding this year. We have a presiding officer who conducts the meeting. We recognize no titles except our Grand Master. We extend honors to nobody. We are rather prone to keeping the discussion on a factual basis. We feel it isn't necessary to discuss why we are here, we rather felt that perhaps we would all be more interested in the job we have done, what are we going to do, how are we going to do it, where are we going to get the personnel, what is the plan of education. The need for it and the want for it we assume. We are writing the pattern for no one. The men who are presiding have approached me singly and have asked me; "What do you want me to do?" I have told them all to speak from their own hearts and their section of the program is in their charge. After all, one of the ways we expect to learn something is to have different Brethren preside and see how they do it. So, with that rather rough and approximate outline of our idea of this thing, which you can certainly change, this is your conference, our conference.
Glen G. Radcliff was Grand Master of Masons in Iowa
B.F. Butler was Chairman of the Iowa Committee on Masonic Education