Level II – Masonic Master Scholar – Activities and Booklist
This level will lead you into more depth in your studies.  Your papers should reflect that greater depth and understanding of Freemasonry and what it stands for and means, how it has affected Society and the world.  There are seven areas listed.  You will need to prepare in at least five of them to attain the designation of Master Scholar. You are not necessarily limited to the books listed but are free to choose books from any source that will fit with your program.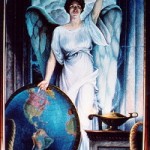 Masonry and the Arts
Individual research on the Masonic Fraternity as depicted in music, art and poetry.  In addition to paintings like the one above there have been many "masonic paintings"  many masons were artists, poets and writers. Masonry is the subject of a Grand Opera. Architecture has certainly played a part in Freemasonry when you consider the Masonic Temples, Scottish Rite Cathedrals, etc. which have been built around the world.  Explore this vast area and prepare a presentation to be given or a paper.
Mozarts The Magic Flute
Kipling:  The Man Who Would Be King
Goethe:  Faust  (probably extra credit)
Leo Tolstoy:   War and Peace  (definitely extra credit)
Masonry in Iowa
Research the way the Masonic Fraternity came to Iowa.  Where did we get our Ritual.  Who is responsible for Freemasonry in Iowa.  How has the Grand Lodge grown and changed over the years.
The multiple volumes of The History of the Grand Lodge of Iowa (now available electronically)
Biography of T.S. Parvin by ????
In-depth study of Masonic symbolism:
Sources of Masonic Symbolism by Alex Horne (M11 H78a)
Masonic Symbolism by Charles C. Hunt (M11 H91m)
Revelations of a Square by George Oliver (M11 Ol4r2)
Freemasonry: Its Hidden Meaning by George Harold Steinmetz (M11 St3)
Albert Pike:          Esoterika
Freemasonry in American History:
Revolutionary Brotherhood by Stephen Bullock (M17.973 B87r)
Colonial Freemasonry by Louis C. Wes Cook (M17.973 C77)
Masonic Membership of the Founding Fathers by Ronald F. Heaton (920 H35f )
House Undivided by Allen E. Roberts (973.7 R54)
Out of the Shadows by Alton G. Roundtree and Paul M. Bessel (M90 R76)
Christopher Hodapp:  Solomon's Builders
The Esoteric Course:
Arcana of Freemasonry by Albert Churchward (M11 C47a)
The Lost Keys of Freemasonry by Manly P. Hall (M11 H14)
The Rosicrucians: the History, Mythology and Rituals of an Esoteric Order by Christopher McIntosh (M10.12 M18r)
Esoteric Masonry, or the Storehouse Unlocked by Phylotus (M11 P56c)
Book of the Words by Albert Pike (M11 P63b
Timothy Hogan:  The 32 Secret Paths of Solomon
Timothy Hogan:  The Alchemical Keys to Masonic Ritual
Aleistair Crowley: The Temple of Solomon
Biographies of Prominent Freemasons:
T.R.: The Story of Theodore Roosevelt and His Influence on Our Times by Noel Fairchild Busch (921 R67tr)
Joseph Warren Physician, Politician, Patriot by John Henry Cary (921 W25c)
Brother Truman by Allen E. Roberts (921 T77r)
Stephen A. Douglas, Freemason by Wayne C. Temple (921 D73)
Random biography of a prominent Freemason, chosen by the Reader or the Director
Robert Lomas:  Freemasonry and the Birth of Modern Science
Comparative Religions Course:
A History of God by Karen Armstrong (291.211 Ar57)
Sacred Narrative by Alan Dundes, editor (291.13 Sa14d)
Best Guide to Eastern Philosophy & Religion by Diane Morgan (290 M821)
Did the Greeks Believe in Their Myths? by Paul Veyne (292.08 V64)
Karen Armstrong:  The Great Transformation
Albert Pike  Morals and Dogma
Aldous Huxley:  The Perennial Philosphy
Bernard Haisch:  The Purpose Guided Universe:  Believing in Einstein, Darwin, and God
Gerald Schroeder:  The Science of God
Gerald Schroeder:  The Hidden Face of God