The Iowa Masonic Library is reputed to be the largest in the world, and is at least one of the top five, with over 100,000 volumes.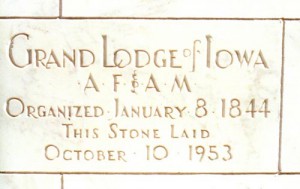 Both Masonic and general books are included in the collections and the library is open to anyone, whether Masons or not.
This building was completed in 1955 and replaced the original building on the same location which had been built in 1884.
The new building cost a little over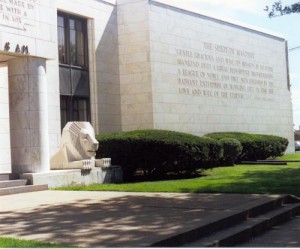 $1,000,000.  It is constructed of
Vermont Marble, with grey marble from Carthage, Missouri, lining the interior halls. Metal work in the windows, doors and stair rails is of bronze.
The main portion of the building is over 245 feet long and 50 feet wide, while the library west wing is 113 feet deep. Located at 813 First Avenue S.E. in Cedar Rapids, Iowa, the building is open to visitors Monday through Friday from 8 a.m. until noon and from 1 p.m. to 5 p.m.
Follow this link to the Iowa Masonic Library Online Catalog