Most Worshipful Brother William R. Crawford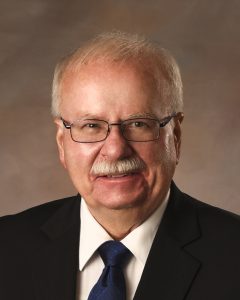 Grand Master of Masons in Iowa
Grand Secretary Emeritus
After being appointed by Grand Master Raymond E. Clause as Grand Secretary on March 19, 1999, Brother William R. Crawford was elected at Grand Lodge to continue serving the Fraternity as the eleventh Grand Secretary.
Brother Crawford was born in Waterloo on July 19, 1946, and attended the Jesup Community Schools graduating in 1964.  He received a B.S. Degree in Dairy Science/Ag Business from Iowa State University in 1969.
On November 19, 1967, he was married to Elaine Reynolds. Bill and Elaine are the parents of two grown children, Mark and Jill and the grandparents of five and great-grandparents of two.  He moved from Glidden to Cedar Rapids where he joined the staff at the Iowa Masonic Library as the Deputy Grand Secretary in October of 1998.  Prior to that, he was the Administrative Assistant/Bookkeeper for the Community Grain Company in Coon Rapids.  They are members of the First Presbyterian Church in Glidden.  Bill served as a lay speaker in area Presbyterian Churches.  Brother Bill served on the Glidden City Council from 1986-1998, and was on the Carroll County Resource Enhancement Committee from 1988-1998
Brother Crawford was Raised in Radiant Lodge No. 366 at Alden on March 10, 1973.  A career change took the family to Glidden in 1978.  He then affiliated with Haggai Lodge No. 369 the following year.  He served as Worshipful Master in 1981, and was Secretary from 1986 through 1998.  In 2005 he became a Charter Member of Crossroads Lodge No. 677 at Dewitt, where he continues to hold a dual membership.  He holds District Lecturer's Certificate No. 3013.
His first Grand Lodge service was a 1992 appointment to the Committee on Appeals and Grievances, remaining on that committee until 1995. He also served on the Lodge Service Committee from 1995 through 1998. In September of 1998 he was installed as Junior Grand Deacon, and 26 short days later, on October 14, was installed as Deputy Grand Secretary. He became the first Iowa Mason to hold three offices the same year when appointed and installed as Grand Secretary on March 19, 1999.  In September of 2018, he was appointed as Chairman of the Committee on Division and Reference.
His York Rite membership is at Sioux City in Sioux City Chapter No. 26, R.A.M.; Zadok Council No. 24, R. & S.M.; and Columbian Commandery No. 18, K.T. He received his Scottish Rite Degrees in Clinton Consistory and is a dual member with the Sioux City Consistory.  He is a member of Research Lodge No. 2, Iowa York Rite College No. 2, Lewis & Clark York Rite College No. 199, Marion Chapter #183 O.E.S., Scottish Rite Research Society, and Iowa College Societas Rosicruciana in Civitatibus Foederatis.
Brother Crawford retired from the duties of Grand Secretary on March 31, 2014, after 15 years of dedicated service to the Grand Lodge of Iowa and the Masons of Iowa.  He was named Emeritus Grand Secretary by Grand Master Eric Rozeboom.
Following retirement, he and Elaine returned to Glidden on a permanent basis.
He had been preaching each Sunday at the First Presbyterian Church in Odebolt he then became a Commissioned Lay Pastor on November 11, 2014, to that church and continues in that role.  He was selected to represent Prospect Hill Presbytery (Northwest Iowa) as a delegate to the PC (USA) biennial meeting in St. Louis in June of 2018, and currently is serving as the Moderator for the Presbytery.  Masonically, he enjoys assisting area lodges with degree work.