Most Worshipful Brother Terry E. Osborne
Grand Master of Masons in Iowa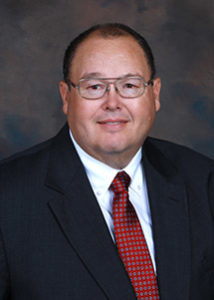 Brother Terry is a life-long resident of Brooklyn and was born on August 3, 1956 at Grinnell.  He graduated from BGM High School and then from Luther College at Decorah with a Bachelor of Arts Degree in Music.  He married Synthia Thompson (deceased) from Mason City on June 23, 1979.  He was a Vocal Music Teacher at Bancroft in 1979.  He made a career change to insurance beginning in 1980 as a Claims Adjuster for Grinnell Mutual Reinsurance Company.  He sold life insurance for Ozark National Life starting in 1984.  Since 1992, he has been involved in Osborne Insurance Agency and Osborne Realty in Brooklyn until retiring in 2015.  He is active in the Grace United Methodist Church in Brooklyn and served as Choir director and on various committees.  He has also served his community as a member of the Brooklyn Chamber of Commerce and the Economic Development Committee.
Brother Osborne was raised in Corinthian Lodge No. 174 at Brooklyn on July 1, 1991 and is a Past Master.  He has served Iowa Masonry as Grand Tyler in 1995-96, Junior Grand Warden, 2005-06 and he served on the Grand Charity Board, Grand Lodge Board of Trustees, Chairman of the Committee on Division and Reference and Custodians of the Work and is currently serving as Chairman of that Board.  He also is a member of the Speaker's Bureau and a Trial Commissioner since 2000.  He received his Scottish Rite degrees in the Davenport Consistory in 1994.  Terry received the DeMolay Legion of Honor in 2016. Brother Terry is also a member of Gebal Chapter No. 12 of Royal Arch Masons, Malachi Council No. 55 of The Royal & Select Masters, Oriental Commandery No. 22 of The Knights Templar, Red Cross of Constantine St. Bartholomew Conclave, York Rite College No. 37, Za-Ga-Zig Shrine, and Za-Ga-Zig Shrine Past Masters Club.  He holds District Lecturer's Certificate No. 3035