Grand Lodge of Iowa A.F. & A.M. 176th Annual Communication
Sioux City, Iowa
Start Date: Thursday, September 17, 2020
End Date: Saturday, September 19, 2020
Last Day to Book: Tuesday, September 1, 2020
Courtyard Sioux City Downtown/Convention Center for $114.00 USD per night.
Your room block reservation is now live. Guests may begin reserving online
utilizing the link below or
by calling the Marriott Reservation line at 1-888-236-2427.
Here's your reservation link your guests may use to make online reservations:

Book your group rate for Grand Lodge of Iowa – Iowa Masons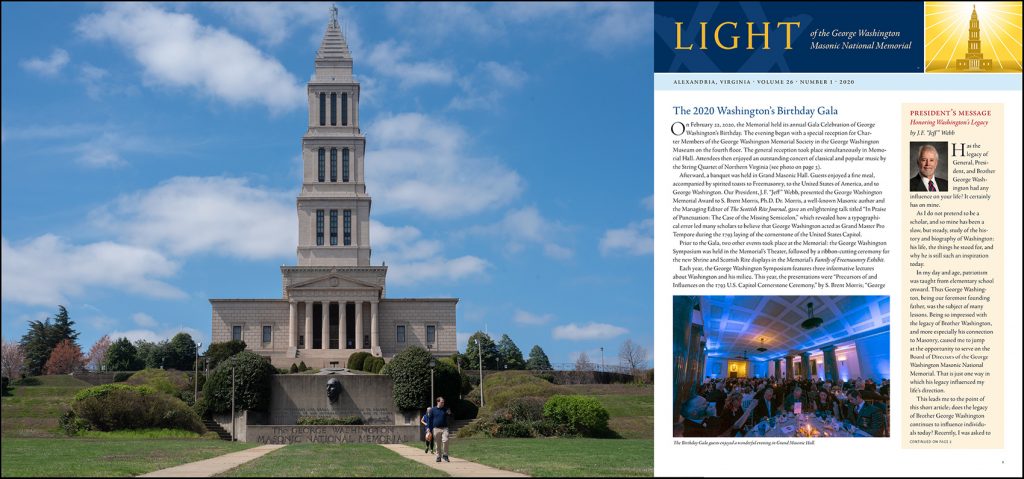 Due to the COVID-19 emergency, this issue of the George Washington Masonic National Memorial's newsletter, LIGHT, is being distributed electronically. This issue contains news about the opening of new exhibits for the Scottish Rite and Shriners as well as the continuing restoration of the Memorial.
Download LIGHT at http://assets.gwmemorial.org/pdf/light_2020_01.pdf.
For more information visit the Memorial's website at http://gwmemorial.org.
Shawn Eyer
Director of Communications & Development
The George Washington Masonic National Memorial Association

March 31, 2020
Greetings Brethren,
With the COVID-19 virus hitting many people hard financially, the Grand Charity Board reminds Iowa Masons that we may be able to help our Brethren.  If an Iowa Lodge has a member, a Masonic widow or orphan who is in dire need of help, please download the charity application form from the Grand Lodge of Iowa website, fill it out and send it to the address you find on the form.  The Board will evaluate the request as to the need and guidelines of the program and act accordingly.  If you have questions feel free to call Eldon Walton, Chairman at: 515-321-7090.
Link to application
Link to instructions
Thank You,
Eldon F. Walton
Chairman, Grand Charity Board
Theodore C. Wiley
Damian N. Hurmence
Jason A. Wolcott
Matthew A. Buckley

If you are looking for Masonic Education for your Lodge or yourself, as we are now spending more time at home, check out this great service the MSA is offering; Podcasts
To learn about becoming an Iowa Freemason, check out the Join tab and the website Be a Freemason.
Thank you for your interest.
Previous
Next